Windows to the World
When Art Peck '77 stepped into the presidency of Gap North America in February 2011, the iconic retailer had fallen out of fashion. Now that he's turned the brand around, he's out to revolutionize the digital dressing room
By Dick Anderson | Photos by Jim Block
Art Peck '77 has a Gap shirt in his closet—a muted green plaid flannel shirt that would look great with a pair of jeans and a dark colored T-shirt during the winter months. "But there are two things wrong with it," he says. "It has super-bright optic white buttons on it, and there's a taping inside the collar which is optic white as well. And they just don't go with the sensibility of the shirt."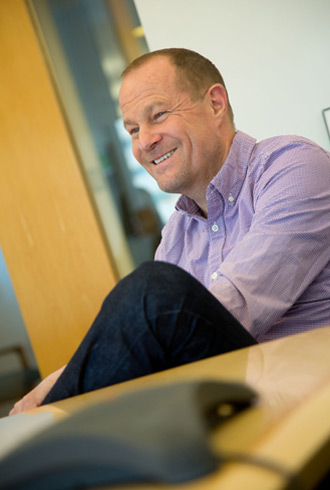 So Peck—who until recently was president of Gap North America—did what any high-ranking executive in his position would do: He shared his criticisms about the shirt with the company's design team. "It's details like that that you have to get right every day, whether it's in product design or running a store," says Peck, who in January was named president of San Francisco-based Gap's Growth, Innovation, and Digital division.
In his new role, Peck is charged with navigating the entire Gap portfolio of brands—including Banana Republic and Old Navy as well as newcomers Athleta, Piperlime, and Intermix—through a changing retail environment. "When you think about going forward, the distinction that has historically existed between the online world and a retail store is obviously blurring today. And that's because the customer views it all as one brand, and they engage that way," Peck says. "So the work we're doing here is asking, how do you follow the customer on that journey where the online and offline worlds come together?"
That question is hardly unique to Gap, of course, but few industries are as fickle as fashion. And few brands are as ingrained in the American mainstream as Gap, which rang up $15.7 billion in sales in fiscal year 2012. That represents an 8 percent overall increase from 2011, a 5 percent uptick in same-store sales (the standard measure of a retailer's health), and a remarkable turnaround from an annus horribilis when sales dropped 4 percent.
No small amount of that success can be traced back to Peck, who stepped into the Gap North America presidency in February 2011, fresh from jumpstarting the company's franchise operations and international footprint. "We sat down at the beginning of the year and we looked at our product pipeline," he recalls, "and we knew it was going to be a terrible year, because the product was off- brand. We had to tell the organization to bear with us, because it was going to get better. And, in my experience, that's probably the toughest time in leadership—when you know where you want to go, and you know you can get there, but it's terrible along the way, and you're trying to recruit people emotionally to go along with you."
Peck and his team spent 100 days at Gap's new Global Creative Center in New York City in 2011, huddled together with merchants and designers, "being incredibly picky about what product was appropriate for showing up in a Gap store, down to the buttons and labels and hand feel of the fabric and the drape—all the things that designers and merchants can talk about and I can only be a poser about," he says. "But at the end of the day, if the product isn't great, then the rest of it doesn't matter."
As the 2012 collection came together, field leadership members from the tri-state area around Manhattan were invited to visit the design center to walk through the product assortment with Peck and his team. "That allowed them to start talking the product up to staff and to other field leaders," he says. But the most important step beyond that was designing storefronts to showcase the retailer's new offerings. If you placed every Gap store end to end, you'd have 10 miles of windows—"and you can put a lot of product in 10 miles of windows," Peck says.
"We knew that we were going to have pretty radically different product coming alive in the stores in February 2012, so in January we purposely ran the stores almost dry," he adds. "If you were in the stores in the last two weeks of January, there was very little adult product to actually buy—so when the new product came in, we didn't want it sitting with the old, off-brand product."
That first week of February, Gap's spring product began flowing into stores, with brightly colored denims leading the way. "We knew that the field was excited about it, and we had the advertising to support it," Peck says, but it took about a week and half before sales figures started to show that customers were buying into the change. "That was a long period of holding one's breath, waiting for the numbers to actually come in." For the next 12 months, Gap recorded positive year-to-year same-store sales—a milestone that the retailer hadn't experienced in a long time.
Not bad for a guy with a liberal arts degree. "In my family, we always talked about that you're not going to college to get a job; you're going to college to expand your mind," says Peck, who grew up in the Bay Area and was attracted to Oxy's small, urban setting. "Liberal arts was the path."
After flirting with a science major on a premed track ("Organic chemistry was interesting to me, but it wasn't where I wanted to spend my time and build a career"), Peck majored in economics and had professor Woody Studenmund as an adviser. He also was a founding member and first president of the Blyth Fund, the student investment group whose membership currently includes his son, William, a junior economics major. (Daughter Grace '10 majored in history and ran track and cross country at Oxy. She's now working on a ranch in Jackson, Wyo.)
"Occidental left me with a strong sense of personal responsibility, accountability for my own success and happiness, and a strong ethos of critical thinking," says Peck, who enrolled at Harvard Business School directly out of Oxy. After graduating, he moved back to Los Angeles and worked for two years for what is now Avery Dennison. That was when he met his wife, Kirsten Frank '79 (a third-generation Tiger, and the product of a large extended Oxy family), through a mutual Oxy friend, Audrey Heller '79. After the two got married, Kirsten was accepted to business school at Northwestern University in Evan­ston, Ill., and Art took a job in Boston Consulting Group's Chicago office.
Founded in 1963, BCG distinguished itself from such senior competitors as Booz Allen and McKinsey & Co. by building corporate strategy as a discipline. "At the tender age of 25, I was thrust into an environment where I was counseling very senior executives on their businesses," Peck recalls. "It was a 23-year learning experience as well." In his last decade with BCG, Peck was right in the middle of what became the revolution in media, from the emergence of file-sharing systems such as Napster to the birth of iTunes, which legitimized the downloading of music through a copy-protected model.
Peck worked closely with Universal Music Group, which at the time was part of Seagram Co., as well as with Jimmy Iovine, putting together what is now Interscope Geffen A&M, "which is kind of a model for the new label structure," he says. "It was a fun place to be for a lot of reasons, not the least of which is there are a lot of people working in that industry because first and foremost they love music. And I find the same thing here at Gap. There are people who are here because it's a job, but there's a lot of people here who love clothing."
When he decided to make the leap from BCG for another three-letter company, Peck was ready for what he calls a "repotting." Through a small consulting job for Gap, he had gotten to know the business, and he'd also become acquainted with Gap founder Don Fisher (who died in 2009) and his family through a piece of pro bono work that BCG had done. Coupled with the fact that a job at Gap wouldn't entail relocating his family, "I reached out and found a role," Peck says.
As executive vice president of strategy and operations, Peck was instrumental in the $150-million acquisition of Athleta, a premium fitness and lifestyle apparel brand for women, in 2008. He headed up the outlet business for two years after that before stepping into the Gap North America chair. And in his new position, the division formerly known as Gap Direct Inc. will channel its energies into Growth, Innovation, and Digital.
"In business, you're either shrinking or you're growing," Peck says, "and if you are shrinking, you're failing as an organization." While Gap looks to expand its core brands internationally, he sees significant potential domestically with its three junior companies: Piperlime, a third-party boutique online retailer that opened its first brick-and-mortar store in New York's SoHo district; Gap's latest acquisition, Intermix, a high-end specialty re­tailer with 32 stores in North America, bought in January for $130 million; and Athleta.
The latter "was a Web- and catalog-only business when we bought it," Peck says. "Now Athleta's website is exposed to the traffic that's coming across our other brands, and we have the expertise to roll out stores quickly to accelerate that growth." To that end, Athleta has opened 35 stores in the last two years, with six more opening soon.
"The hardest thing in retail when you're running a store's business is to do anything but feed the stores," Peck adds. "And every season, you reinvent your complete product line. This is not about selling ties."
One advantage of having an Athleta in your arsenal is the opportunity to test new ideas in a smaller store base. That's difficult to do for a chain the size of Gap. "I get up every morning and I see my numbers," Peck says. "Innovation means disconnecting from the here and now, to think slightly over the horizon. So what we've created here is a way to help the brands continue to evolve, especially against the backdrop of everything else that's changing in retail. We're chartered to help the company try things and adapt things, whether it's a test store, a new payment system, or a new distribution model."
Gap has already made significant inroads into the digital retail landscape: E-commerce accounted for $1.5 billion of its total sales in 2012. "We have a very profitable digital business," Peck says, "and a large e-commerce platform that's proprietary to us." For those potential customers visiting Gap's websites, the name of the game is conversion: turning shoppers into buyers. "For them, your website is the first exposure with the brand. And then there are people who for a variety of reasons shop online predominantly—a busy mom who is working and needs to buy her kids clothes and knows what their sizes are."
Peck continues: "In our industry, there always will be talk about the store is dead; there's no reason for a store. You also hear a lot about showrooming in the consumer electronics industry, where people will go look in a store and then they'll look for the best price online. We have the advantage that you can't buy a pair of Gap jeans except at a Gap store. We're not selling them on Amazon."
Another advantage, he says, is that Gap is in the business of selling "something that isn't objectively compared to everything else. So a pair of 1969 Always Skinny jeans has a particular fit, and a particular wash. The fabric has a certain stretch. So there's always going to be a role for the store."
How does Peck make his own fashion decisions? "First of all, I try to wear the company's clothing: An executive at Ford better not drive a Mercedes. But I also buy competitors' products because I think it's important to understand what they're selling as well. But the real truth about why I came to Gap is that not only can I wear jeans to work every single day, it's an expectation that I do."